The national campaign against lung cancer: "Your lungs, your decision"
16.08.2011
0 comment(s)
Apart from developing the concept for the idea and the graphic solutions (making of the campaign symbol and logo, coming up with the key visuals, making the photos-choosing the photo models, postproduction) POSH&media team had also done a series of promo materials such as: newspaper ads, roll ups, press wall, promo stand, brochures, branding of the exterior, branding of the uniforms for the hostesses, POS materials etc.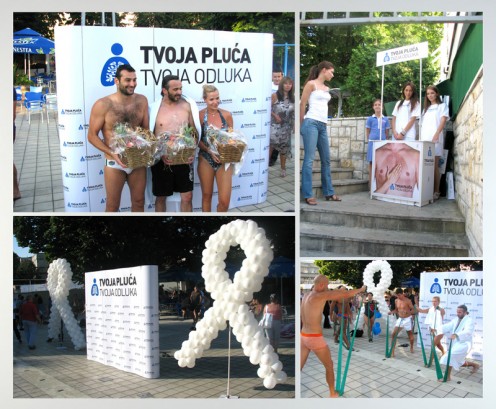 The campaign kicked off with a "Race for a Breath of Air" which took place at swimming pools in Belgrade, Subotica, Novi Sad, Jagodina and Nis between August 17th and August 30th 2011.
The promoters of healthy lifestyle for these races were well known athletes, members of the cultural, artistic and social life in Serbia. Citizens and celebrities together participated in the races, and apart from competing in different styles of swimming they had fun, try out their swimming prowess and together with the promoters pass on the message about the importance of sports in leading a healthy lifestyle.
The campaign started in Belgrade at the "Tasmajdan" swimming pool on Wednesday at 6pm. Two days later on Friday, August 19th the race was held at the City pool in Subotica, and the next one took place on August 23rd in Novi Sad at the swimming pool of the Sports centre "Sajmiste". "Aqua park" in Jagodina hosted this event on August 25th and the activities ended on August 30th at Sports centre "Cair" swimming pool in Nis.
Related Articles